PE & Athletics
Honesty Is A Boy Thing
PE & Athletics at Fessenden
PE & Athletics at Fessenden
Whether they're in Pre-Kindergarten or ninth grade, boys benefit from movement. Fessenden's physical education and athletics programs satisfy that need while also reinforcing the character education skills students are learning in the classroom at our Boston-area independent school. In games, intramural sports, and interscholastic competition, boys practice teamwork, fairness, respect, and responsibility—while having a lot of fun.
Facilities at The Fessenden School
2 Lighted, Organic Infill, Turf Fields
3 Grass Playing Fields
Track & Field Facilities
Indoor Hockey Rink
3 Gyms
6 Lighted Tennis Courts
2 Outdoor Pools
5 Squash Courts
Wrestling Room
Weight Training & Conditioning Center
Access to Nearby Facilities For Crew, Golf, Sailing, and Skiing
Lower School Physical Education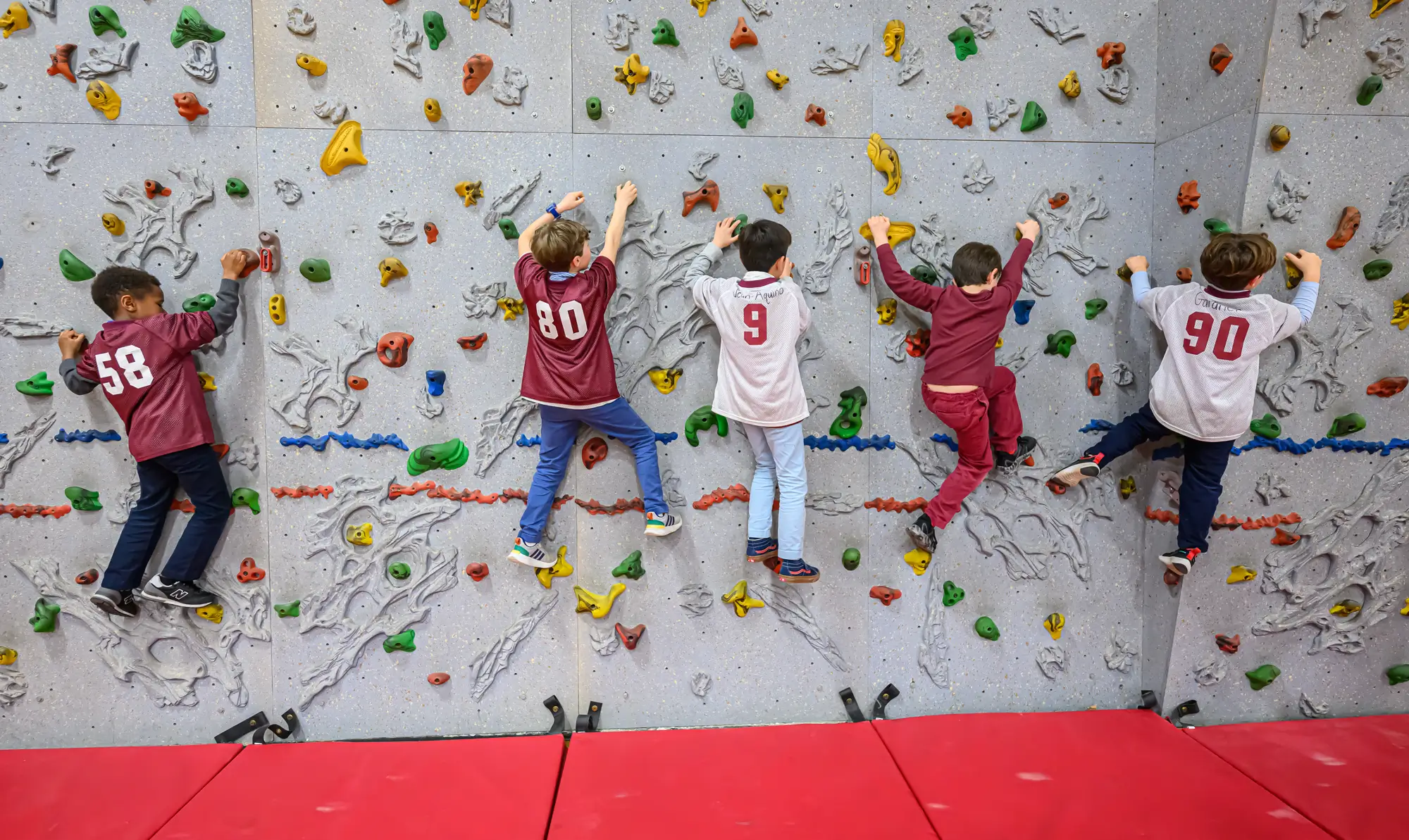 Lower School Physical Education
Students in Pre-Kindergarten through Grade 3 at our boys school take a designated PE class three days per week. Grade 4 boys enjoy PE four times per week. Through activities and games, boys learn skills that form the foundation for a lifetime of healthy physical activity. They are introduced to the concepts of competition and fair play, with an emphasis on having fun and being gracious no matter the outcome of their games.
Instead of a PE class, our Middle School boys have the opportunity to try different sports each season before choosing the one they want to pursue. Boys who have never worn skates or held a racket can play hockey or tennis—our coaches emphasize exploration and skill development.
What's Flex Week?
This one-week period between athletic seasons allows Middle and Upper School boys to try one of the upcoming season's sports, no experience required. Alternatively, boys can use this time to take part in activities like ultimate Frisbee, floor hockey, capture the flag, the "Fessy Cup"—an intramural hockey tournament for all abilities and experience, and service learning projects.
Fessenden's Upper School students compete against the top independent schools in the Boston area and throughout New England. Over the years, our students, teams, and alumni have enjoyed many athletic successes, including winning multiple New England Junior Prep Championships, and graduating students who have gone on to play in college and professionally.

Upper School boys play and practice in top-notch campus and nearby facilities with experienced and exceptional coaches–many former college athletes themselves–who are committed to developing character along with athletic skills. Boys must select a sport or activity for each of the three seasons and choose the level of competition: interscholastic, intramural, or recreational.