Getting to Fessenden
Bus Routes, Carpools, and Other Ways to Get to Fessenden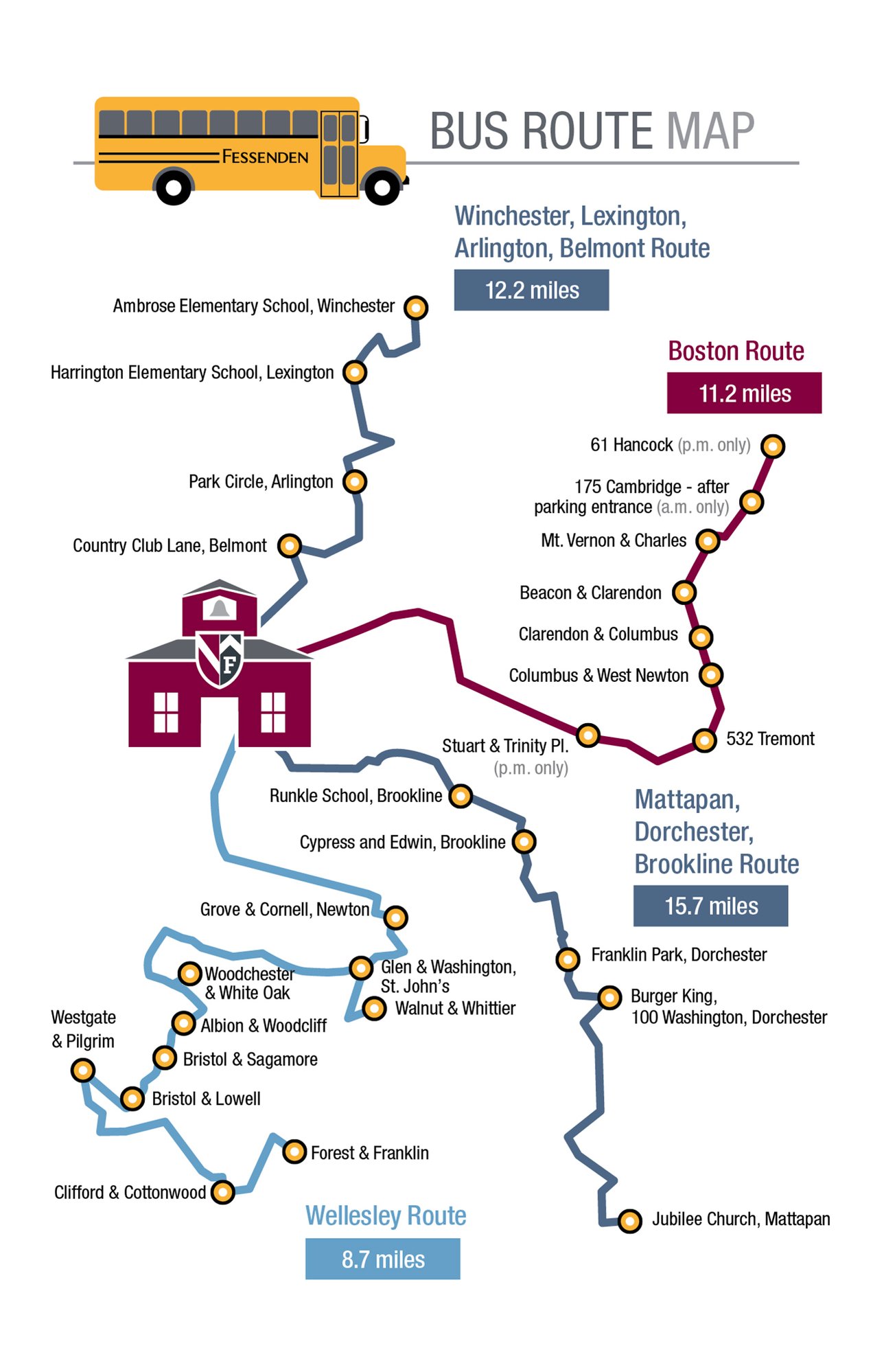 Bus Service at The Fessenden School
Through a partnership with Local Motion, a bus company, we offer bus routes serving students in 10 greater Boston communities. You can choose daily round-trip, morning-only, or afternoon-only service for your child.
Signing Up for the Fessenden Bus Service
Most families register for bus service over the summer. Families may also sign up at any time during the school year if there is space available. Please contact Mike Grossman, Chief Operations Officer, at mgrossman@fessenden.org.
All buses or vans used by the Fessenden bus service are equipped with seat belts. Students who use our bus service near Boston are held to Fessenden's on-campus behavior standards. Frequent violations of those standards may result in a student's suspension from the bus service.
Please note: Our independent school's bus stop locations do not provide door-to-door service but rather central pick-up and drop-off locations for Fessenden students in a given area. The exact routes of the Fessenden bus will vary year to year based on the location of our students and are revised in consultation with Local Motion. We welcome input from parents in annual conversations about bus route revisions.
Student Carpool to The Fessenden School
Many Fessenden families choose to share drop-off and pick-up duties with one another. When your son enrolls, you will have access to a directory feature via My Fessy, our password-protected portal. This function allows you to identify and communicate with potential carpool partners in your neighborhood or town.
Car and Public Transportation Options at Fessenden
Driving to Fessenden
For GPS, use our address: 250 Waltham Street, West Newton, MA. We're easily accessible from the Mass Pike or Route 16.
Taking Public Transportation to Fessenden